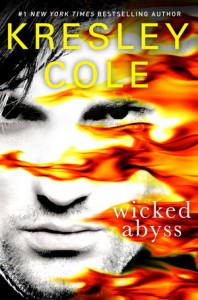 I totally loved this book. I read it in basically one sitting and then promptly bought the audiobook. *happy dance
Wicked Abyss is the latest in Kresley Cole's IAD series, and another featuring the Morior, the baddies. Abyssian, or Sian, is now the king of a hell-plane, Pandemonia (featured in Dark Skye). Calliope, or Lila, is a fey princess who is sent to spy on Sian so that she can return to her fey realm and marry the fey king Saetth. Lila is a reincarnate of Sian's deceitful mate, Kari. Sian is dying to punish Lila for all the things Kari did to him.
This story is a fairytale retelling of beauty and the beast. Lila is a plucky heroine to takes no shit. I adored her. She's scrappy and fearless. Sian has a grudge but he can't help but admire Lila's determination, nor can he ignore the fact that she's his mate. He's a trickster, intent on sentencing her to various "hell's labors" but she keeps finding ways around them.
Absolutely adored this book in the IAD series. Loved Sian and Lila together. Cole's trademark humor and sexy scenes were exceptionally strong in this book.